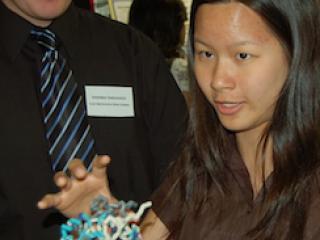 The 2023-2024 WSSP research project focuses on the DNA sequence analysis of genes from the duckweed plant Landoltia punctata, and how these genes compare to those found in other species. Duckweed, a fresh-water aquatic plant, is of interest to the scientific community because of its use in bioremediation, and its potential use as a biofuel.
A mRNA population of Landoltia punctata will be used to explore the research question: Which genes are expressed in this organism, and how do they compare with expressed genes from other species?
Students in the project will isolate and sequence genes from a cDNA library (a collection of mRNA's copied into DNA's). These sequences have never been determined before. If a student successfully analyzes a sequence, it will be published in GenBank, the international repository of all known DNA sequences, for other scientists to study. Each published sequence will bear the student's name and his/her teacher's name. In the course of their analyses, WSSP students will compare Landoltia sequences with those from other eukaryotes to determine the evolutionary relationship of Landoltia to other organisms. In addition, if their sequence codes for a protein from another organism and the three-dimensional structure of that protein has been solved, students may be able to use their sequence information to design a model of that protein and see how it differs from the same protein in Landoltia.
A video overview of the WSSP and the research project here
The Summer Institute
A two-week, in-person, summer institute for teachers and lead students was conducted in July 2023. A two-week summer Institutes were also held at the Lawrence Livermore National Laboratories in Livermore, CA, At each summer Institute students and teachers learned about a research project in molecular biology. Both the background material and the laboratory skills necessary to carry out the project were presented.
The Academic Year
Teachers and students return to their classrooms in September and begin working on the research project. Additional students will be recruited. Some schools offer a research course for high school credit; others offer the research as an after-school activity. The students return to the sites of the summer institutes for meetings during the academic year. At the end of the year, in May or June, a forum is held where students present the results of their studies at a poster session.