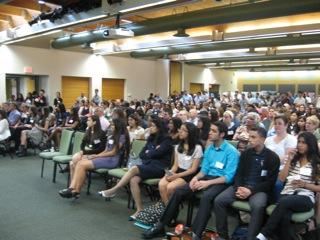 On Wednesday, June 4, 2014, students representing 26 New Jersey high schools attended the Waksman Forum Poster Session to present their findings from their yearlong research investigations.  Over 250 guests, including students, teachers, school administrators, scientists, and parents, came together for this closing event of the 2013 Waksman Student Scholars Program (WSSP), a research project in molecular biology, genetics and bioinformatics that focused on the analysis of a mRNA population from the duckweed, Landoltia punctata. The research question asked: "Which genes are expressed in this organism, and how do they compare with expressed genes from other species?" As a result of their work, over 492 of the 822 students from NJ high schools successfully analyzed and published 762 novel Landoltia DNA sequences on GenBank, the international repository of all known DNA sequences.  The WSSP is sponsored by the Waksman Institute, Rutgers University and is directed by Dr. Andrew K. Vershon, a professor at the Waksman Institute.
High Schools represented on June 4th included:
Academy for Enrichment & Advancement @ Union City High School
Bayonne High School
Bridgewater-Raritan Regional High School
East Brunswick High School
Hackettstown High School
High Point Regional High School
Hillsborough High School
Holmdel High School
J.P. Stevens High School
James Caldwell High School
Middlesex County Academy for S.M.E.T.
Montville Township High School
Old Bridge High School
Pascack Hills High School
Pascack Valley High School
Piscataway High School
Robbinsville High School
Rutgers Preparatory School
Somerville High School
The Hun School
The Lawrenceville School
The Pennington School
The Pingry School
Union City High School
Watchung Hills Regional High School
West Windsor-Plainsboro High School South